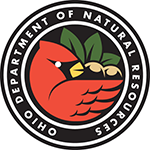 North Reservoir Rehabilitation During 
COVID-19 Outbreak
The Ohio Department of Natural Resources (ODNR) is operating in accordance with guidance from the Ohio Department of Health and Governor Mike DeWine during the COVID-19 outbreak. The North Reservoir Rehabilitation project is considered mission critical and will continue to move forward; we want to assure North Reservoir residents that ODNR and its contractors are following all guidelines to protect public health.
For more information visit ohiodnr.gov.
Final Design, Permitting
North Reservoir dam rehabilitation work continues to progress. This month Tetra Tech, an ODNR-contracted engineering firm, will finalize the new dam design based on engineering and dam safety requirements, considerations of possible impacts on properties that abut the dam, and input from property owners, utilities and local jurisdictions.
Ohio EPA received ODNR's submittal for a water quality permit (401) and Army Corps of Engineers received a submittal for the sand fill permit (404). Both permit requests are in review. Ohio EPA is currently accepting public comment.
Septic Systems and Wells
The Beaver Excavating Company continues working one-on-one with residents along Dollar Drive who could potentially experience impacts to their water or sewer service. If you are concerned about possible impacts to your sewer or drinking water well and have not yet been contacted, please email Jarid Huston at [email protected].
Temporary Dock Installation
To ensure dam and public safety during the construction of the new North Reservoir dam, ODNR will install temporary docks as an alternative water access solution for residents affected by the dam improvement project. The docks will be installed at the State Mill boat ramp starting this week. The work is expected to last approximately two weeks.
If alternate water access is needed at the State Mill boat ramp please contact Angela DelBrocco at [email protected]. Alternative water access solution is not intended for general public use.
Lake Levels 
The goal is for current lake levels to remain during recreational seasons (summers of 2020 and 2021).
Should dam safety or construction operations become a concern, lowering is possible but will be communicated and brought back to recreational levels as soon as allowed.
Questions
Please see engineering.ohiodnr.gov for an overview of North Reservoir Dam improvements and previous meeting presentations. If you have other questions or comments, please contact Angela DelBrocco at [email protected].