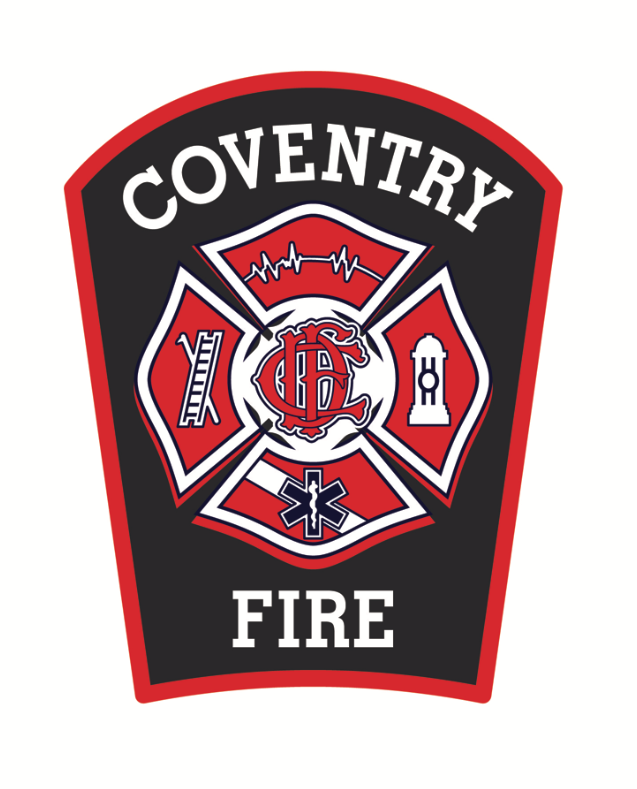 The Coventry Fire & E.M.S. Department provides a full-time staff of certified FireMedics and trained dispatchers to deal with emergencies. The department responds to over 2,400 calls for service every year.
In addition to responding to fires and emergency ambulance calls, the staff conducts inspections, offers educational programs in the schools, and has personnel trained to deal with underwater rescue, hazardous materials, and other specialized areas. Emergency ambulance service is provided to Coventry residents at a reduced rate.
The Coventry Fire & E.M.S. Department offers many different opportunities in fire and life safety education. Tours of the fire station, CPR classes, reality-based fire safety training in the fire safety trailer, public speaking, fire extinguisher usage, home safety inspections and basic first-aid training are just a few of the presentations offered by our Fire Department. The Coventry Fire & E.M.S. Department is ready to assist you with any fire and life safety issue.
NOW HIRING!
Full-Time Firefighter/Paramedic 
Minimum Qualifications:
Valid Driver's License with successful completion of driving record review.
Ohio Firefighter Level II Certification
State of Ohio Paramedic Certification (or currently enrolled in a paramedic program)
Successful completion of either the Stark State or Tri-C Firefighter Physical Agility Test
Successful completion of a criminal background check and medical evaluation
Starting salary range based on experience ($54,000-$66,000) plus benefits and overtime opportunities.
Years of service in Ohio Police and Fire Pension will be taken in consideration for step advancement (sick and vacation time accrual).
Please follow this link for a printable application:  EmploymentApp
**Completed applications along with photocopies of all applicable certifications and driver's license, as well as your Firefighter Agility Test Certificate may be dropped off at: Coventry Fire Department – 68 Portage Lakes Drive, Coventry Township, Ohio 44319.
QUICK RESPONSE TEAM
ADDICTION AND SUBSTANCE ABUSE ASSISTANCE PROGRAM
Coventry Township Fire Department is currently working with the Summit County Sheriff's Office and CHC Addiction Services to provide our township with a Quick Response Team (QRT).
What is the purpose of the QRT?
A QRT provides support and resources to those in our community suffering from addiction and substance abuse. The QRT helps with prevention, education, encouragement, assessments, counseling, and care coordination. The QRT looks to quickly reach out to provide support and guidance to those that need it.
Whom does the QRT serve?
The QRT serves individuals who suffer from substance abuse and addiction. This could range from individuals who have needed Narcan, or friends/family members suffering from alcoholism or other forms of substance abuse. The QRT is in place to provide support and information to the patients we serve and their families and loved ones.
How can I get help for a loved one from the QRT?
Contact Coventry Fire Department at 330.644.3228 and ask to speak to fire-medic J.D. Detsch about the QRT. If J.D. is on shift, he will talk to you immediately. If he is not on shift, ask the staff member to transfer you to ext. 670 to leave a voicemail and J.D. will contact you on his next shift day.