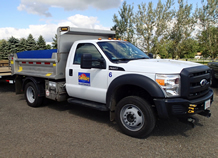 The Coventry Township Road Department maintains 54.52 miles of township roads. Road Department employees also help maintain the township parks, buildings and cemeteries. Township roads are resurfaced, through a "Chip & Seal" process, every six years on an alternating basis. The Road Department maintains all signs as well as ditches along township roads. Based on County policy, the Township will no longer enclose or "pipe" ditches.
EMPLOYMENT OPPORTUNITY
The Coventry Township Board of Trustees is seeking a qualified candidate to fill the part-time position of Road Maintenance Truck Driver-Laborer in our Road Department. Applicants must have a valid Commercial Driver's License (CDL) with a good driving record and a preferred minimum of four (4) years' experience operating heavy equipment. Duties will include road maintenance and improvements, snow and ice removal, parks maintenance and improvements, cemetery burials and cemetery maintenance and improvements. Candidate must be able to perform physically intensive labor under adverse weather conditions. Coventry Township has a non-smoking environment. Dependability, self-starter and a positive attitude are a must.  Application, Resume and a Letter of Interest should be mailed or delivered to the Coventry Township Administration Office, 68 Portage Lakes Dr., Akron, OH 44319, and plainly marked "Road Maintenance Laborer Position."  This position will be posted until filled. NO PHONE CALLS PLEASE.
The Road Department does not maintain all of the roads that are in the Township. Most of the main roadways through the Township are maintained by either Summit County or the State of Ohio. A few fall under the City of Akron's jurisdiction.
Summit County Roads:
Portage Lakes Drive
North Turkeyfoot Road
South Turkeyfoot Road
Killian Road
Lockwood Road
State Road
Robinson Avenue
Cormany Road
State Mill Road
South Main Street
Warner Road
South Arlington Street
City of Akron Roads:
Glenmount Avenue
Harrington Road
Swartz Road
State of Ohio Roads:
Manchester Road (SR. 93)
W. Turkeyfoot Lake Road (SR. 619)
2022 Road Resurfacing Program
| | |
| --- | --- |
| CHIP & SEAL | 405 MOTORPAVE |
|   |   |
| STREET | STREET |
| HUNTING LODGE | E INGLESIDE |
| PAMER | E WELLOCK |
| SOUTH PLAZA | UPHAM |
| WOODLEY | VANTINE |
| WOODVIEW | YARROWDALE |
| DARNELL | BELLISLE CT |
| DELUXE AVE | LEICESTER |
| GREGG RD (ALFRED) | DELORA |
| GREGG RD (CHAFFIN) | DENMAN |
| GREGG RD (SWARTZ) | KIRBY |
| JOSEPH AVE | BALTON |
| STAHL | LOWE |
| THIERRY | POMONA |
| TRAPAS AVE | JOPLIN |
| ALFRED RD | OTTER |
| CHAFFIN CT | S SHERATON CIR |
| CHAFFIN RD | S SHERATON DR |
| CHENOWETH EXT | SHERATION DR |
| | SHERATON PT |
| | LAFORCE |
| | LAJOY |
| | PLEASANT VALLEY |
| | N SHERATON CIR |
| | N SHERATON DR |
| | |