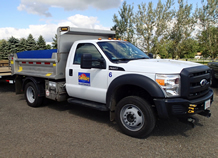 The Coventry Township Road Department maintains 54.52 miles of township roads. Road Department employees also help maintain the township parks, buildings and cemeteries. Township roads are resurfaced, through a "Chip & Seal" process, every six years on an alternating basis. The Road Department maintains all signs as well as ditches along township roads.
Please click here for a power point presentation that explains the 2020 Road Resurfacing Program:
Coventry Township Roads 2020
The Road Department does not maintain all of the roads that are in the Township. Most of the main roadways through the Township are maintained by either Summit County or the State of Ohio. A few fall under the City of Akron's jurisdiction.
Summit County Roads:
Portage Lakes Drive
North Turkeyfoot Road
South Turkeyfoot Road
Killian Road
Lockwood Road
State Road
Robinson Avenue
Cormany Road
State Mill Road
South Main Street
Warner Road
South Arlington Street
City of Akron Roads:
Glenmount Avenue
Harrington Road
Swartz Road
State of Ohio Roads:
Manchester Road (SR. 93)
W. Turkeyfoot Lake Road (SR. 619)
2021 Road Resurfacing Program
S BENDER
BUTTERCUP AVE
COLOPY ST
CONLIN DR
COPE AVE
COSMOS ST
DOUBLER DR
ELDERBERRY AVE
ELMO ST
FINLAND DR
FORGET-ME-NOT ST
HYACINTH DR
IRIS ST
JASMINE ST, NORTH
JASMINE ST, SOUTH
KLINGER DR
KREBS DR
LAKEWAY AVE
LEMAR AVE
LINDA ST
MINOR AVE
NEEDLE ST
POLONIA AVE
VIOLET AVE
VISTA AVE
WHEELING DR
WILLOWEDGE DR

Althea
Elora
Axline
Clayton
Markey
Naomi
Penguin