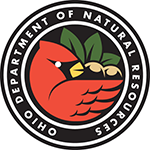 East Reservoir Construction Update
Most construction activities for the East Reservoir Dam Improvements project were completed late spring, but some additional landscaping and other finishing touches are being completed this fall. Due to heavy rain this spring, grass reseeding is needed along each embankment which will be completed soon. Nautical-inspired bollards (posts) and rope will be installed on Portage Lakes Drive to separate the new embankments along the East Reservoir and the local roadway; Coventry Township is planning other improvements in the area.
North Reservoir Project Update
Pre-construction activities began last summer on the North Reservoir Dam Improvements project. Brush was removed, fencing was installed, a portion of the sand berm (to allow for construction) was built, and a turbidity curtain was installed. The turbidity curtain separates the construction site, which will stir up dirt and make the water cloudy, from the rest of the lake. Major construction is expected to begin in 2020.
To prepare for the upcoming North Reservoir Dam Improvements project, docks owners were notified the week of Oct. 1 that docks currently along the north shore must be removed by Nov. 30. Dock owners are encouraged to personally remove docks to ensure careful removal and storage during construction. Sometime after that date, ODNR will remove any remaining docks and store them at ODNR facilities. ODNR will dispose of any unclaimed docks after six months.