Christmas Eve Santa Delivery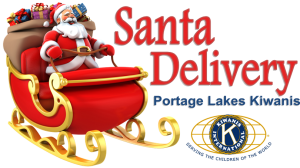 Can you imagine the face of a child seeing Santa arrive in his sleigh on Christmas Eve to deliver a special gift? It's a magical moment!
Parents can drop off a wrapped gift at the Fire Department and other area locations, and the Portage Lakes Kiwanis does the rest. Look for more information about the program each December.
Please follow this link for current drop off locations and deadline's for this year's Delivery
https://www.plkiwanis.org/